Toyota's Spectrum Recognized as 'ERG of the Year' by Out & Equal
With applause from 3,500+ attendees at the Walt Disney World Resort on September 14, it wasn't just a celebration for Spectrum, it was a recognition of the progress Toyota continues to make for its LGBTQ+ team members and allies.
Spectrum, Toyota's Business Partnering Group (BPG) for LGBTQ+ team members and allies, won "Employee Resource Group (ERG) of the Year" from Out & Equal, the leading organization for LGBTQ+ workplace equality and a longtime partner of Toyota. It's presented to an ERG that has a proven track record of elevating best practices, instituting collaborative programming with other ERGs, and advocating for LGBTQ+ workplace equity.

One of the newest members to Toyota's Diversity Advisory Board (DAB), Smith quickly jumped into this role, helping advise Toyota and Spectrum on best practices. She also joined Spectrum's first-of-its-kind "Spectrum Summit," a hybrid 2.5-day BPG symposium in March 2023 for chapter leaders, sponsored by Spectrum's North American Advisory Council (NAAC). It provided strategy workshops, networking events, guest speakers, and panels for in-person and virtual attendees.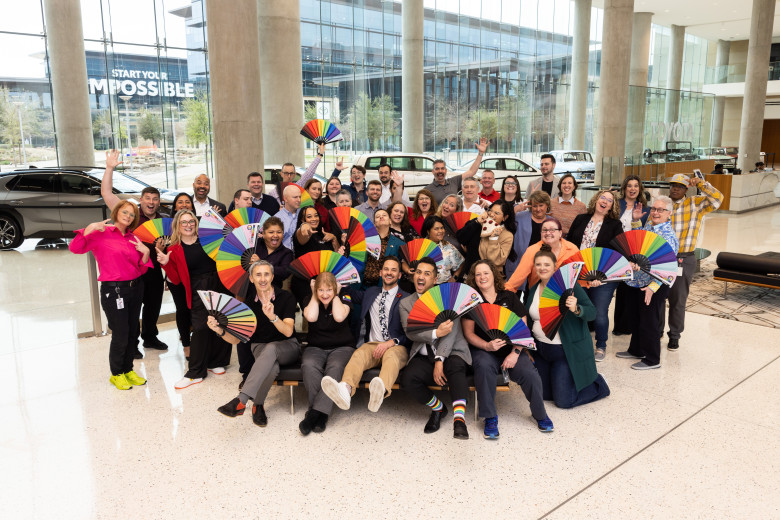 Recent highlights from Spectrum that contributed to this recognition include:
Ranking 1 Top Company for LGBTQ+ Employees by Fair360 (formerly DiversityInc).
Updated company policy to fly the Progress Pride flag at Toyota's U.S. locations., with Spectrum having worked with its executives sponsors, leaders, and the Social Justice Advocacy Committee.
Partnering with Government Affairs to advocate for the Respect for Marriage Act with members of the U.S. Senate and House of Representatives, setting an example for similar activities for other BPGs.
With the introduction of two new chapters, Spectrum now has 13 chapters with over 2,000 members across North America.
In addition to the awards ceremony, the four-day conference brought together over 3,500 executives, DEIB practitioners, ERG leaders and members, and other influencers for unparalleled knowledge-sharing, seminars, special events, networking, and celebration. Several members also joined for "Pre-Con Leadership Day," an immersive, small-scale experience for honing leadership skills and diving deeper into innovative best practices for LGBTQ+ inclusion.
The Spectrum NAAC hosted a pre-Summit kick-off event for its members and were joined by General Smith to excite and reinforce the importance of this valuable opportunity: "Spectrum is a critical component of Toyota's inclusive company culture. The invitation to welcome all team members to bring their full selves to work is a strength and key business differentiator," she said.
At the conference's Engagement Center, a Supra was the highlight for attendees, inviting them to learn more about Toyota's products, culture, and career opportunities.
"I felt proud to represent Toyota and share about the company at every networking opportunity," said Nicki Covey, Human Resources Analyst, TMMK and Chair for Spectrum, TMMK. "The Toyota brand means quality, and, in those settings, it means inclusion. Not only do we build world-class cars; we also build world-class leaders."
For the Spectrum NAAC Co-Chairs Mando Roman, Customer Care Manager, ECW, and Ryan Hines, SI Brand Strategist, Social Innovation, this award was a testament to the progress made, as well as a reminder to keep moving forward. In his acceptance speech, Mando said, "Spectrum is dedicated to continuing to put in the work and effort necessary to continue driving for diversity and inclusion with our fundamental pillar of Respect for People serving as our compass." For Ryan Hines, it's about paying forward the same sense of belonging he's experienced since joining Toyota.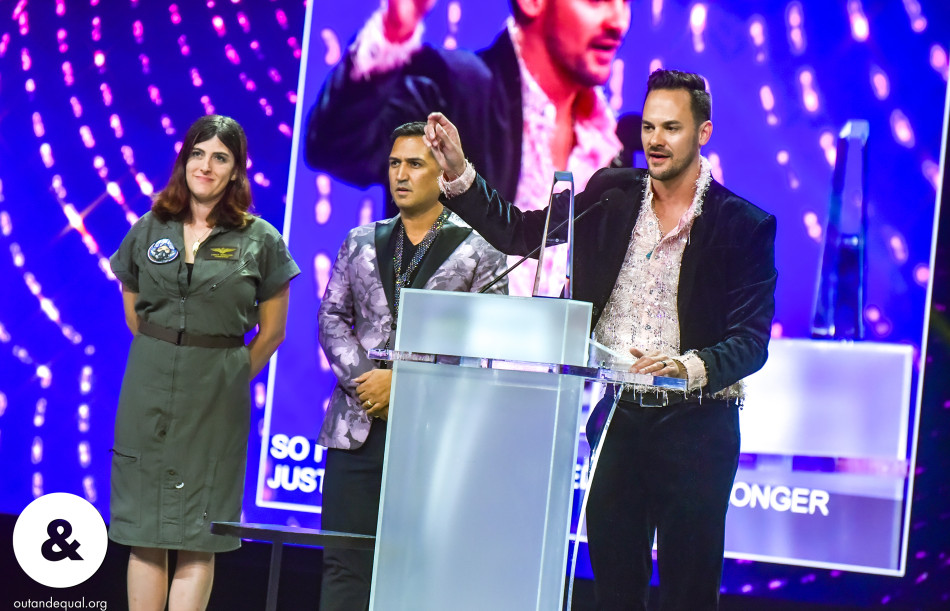 "Toyota provided me a space to be, and to become – an inclusive space that allowed me to flourish, both personally and professionally," said Ryan Hines, Co-Chair, Spectrum NAAC, and Brand Strategist, Social Innovation.
As we celebrate this incredible achievement, it serves as a reminder of the power of diversity, inclusion, and collaboration within the Toyota family. Spectrum's success is a reflection of the collective dedication of its members and their commitment to making Toyota a more inclusive and equitable workplace for all.