TVA Helps Our Military Heroes Find Jobs, Support, and Allyship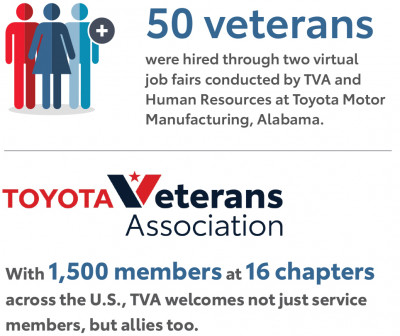 Toyota Veterans Association (TVA) provides a broad and impactful range of programs that help achieve Toyota's goals of hiring, promoting, and supporting veterans.
This year TVA recruiters leveraged remote technology to help get the word out to even more job-seeking veterans.
Sam De LA Garza, senior manager, Product Planning & Strategy, TMNA, explains: ""The virtual world almost works better for us because military members are leaving different duty posts from around the world. So, if a veteran is coming back to the states from Germany, we can actually reach them before they even leave the service and they can have a job in Huntsville, Alabama practically by the time they arrive."
While job requirements differ across Toyota, being virtual ignites conversations and jumpstarts potential opportunities.
In 2021 during the COVID-19 pandemic, Toyota Motor Manufacturing, Alabama (TMMA) conducted a virtual job event – the first time TVA worked with the plant leadership, their human resources department and Toyota's corporate human resources department. Over 50 veterans joined the event, where prospective employees learned about the benefits of working for Toyota. The event also allowed current Toyota veterans to share their experiences and speak about how to succeed at the company.
Whether its conducting a job event, a corporate celebration of recognition of veterans' service to the nation, a volunteer opportunity, or educational event partnering with another Business Partnering Group (BPG), TVA provides advocacy and support for Toyota veterans and active military servicemen and women and allies.