The Unseen Heroes in the Foreground
What You Might Not Know About Toyota's Security Teams
National Preparedness Month – observed each September in the U.S. – is a reminder for all of us to take steps to prepare for potential emergencies and disasters in our communities.
In 2004, September was chosen partly because it's the peak of the Atlantic hurricane season. But whether it's a hurricane or another natural disaster, history reminds us that disaster can strike anywhere at any time. The best way to protect ourselves is a thoughtful, strategic foundation of preparation.
Security Unveiled: What You Didn't Know
An often-unseen hero of preparedness is security teams. Behind every emergency – or ideally before any of us are even aware of an emergency – there's a dedicated team at Toyota working around the clock, serving on the front lines of emergency preparation.
"Everyone can recognize Law Enforcement, Fire and EMS as first responders to emergencies," says Jim Weiland, North America Security and Emergency Management Analyst, Toyota, "What many don't realize is that our security team is the first responder on a scene, in some cases, before authorities arrive."
Protecting People and the Business through Unchartered Territory
Weiland has been in the security business for decades. When COVID-19 arrived in early 2020, he couldn't yet comprehend that this pandemic would probably be the most profound impact of our lifetimes. His security teams were certainly not left behind. They were forced to act faster and smarter with an ever-changing environment.
While many were setting up virtual call backgrounds, Weiland and others on Toyota's security teams were at the foregrounds, still required to be at Toyota facilities. They were the heroes on site, keeping businesses running in ways that many weren't aware. If anyone on the team became sick, others had to step up and work 12- or 16-hour shifts in order to maintain coverage.
"I know we are scared, and things seem to be getting bad, but in spite of it all, we have to hold on to our humanity," Weiland recalls telling his team during a meeting in 2020. The teams became a family, consoling one another and adjusting weekly and daily to the changing crisis. When fast food restaurants were closed, security officers pooled together money and bought food to store on-site for each other.
It was a scary and challenging time. But through it all, the security officers at Toyota came together to care for each other in in true mendomi mindset, a Japanese term meaning to take care of team members like they are family.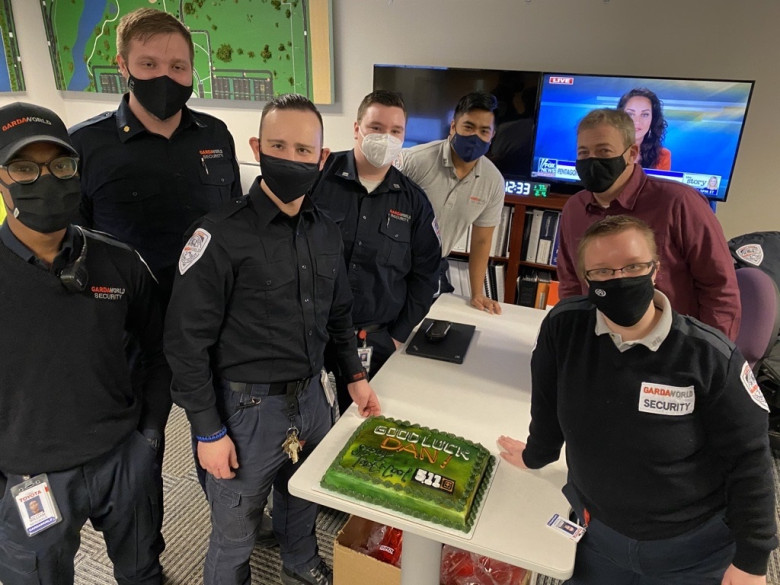 Jim Weiland, Toyota Analyst; Jacob Myers, Project Manager; Jenny Bechamp, Chief Admin; and Clay Freeman, Chief of Security holding a farewell for Fire Captain Dan Stoja. They're joined by previous security captain Remmil Duldulao and previous fire captain Will McDonald.
Beyond the Obvious: Applying Security Measures in our Everyday Lives
Learning from the experience of these security officers, some key learnings that apply to all of us when it comes to preparedness:
Continuous Improvement and Respect for People – In everything we do across our roles at Toyota, remember to stay focused and on course, but just because we've always done something a certain way, doesn't mean it's the best way to do it.
Think Creatively – When we face a business challenge, think from an innovative mindset to problem-solve. For example, despite rising fuel prices, Toyota's security officers found a way to reduce their fuel cost by 60 percent of what it was in 2022, exceeding their goal.
Maintain Situational Awareness – Whether it's when we're in the parking structure or another facility at work, out shopping or in the city, always be aware of your surroundings.
If You See Something, Say Something – When it comes to security officers, many have prior military, police or fire experience. If you have concerns or something doesn't look right, let a security officer know.
Just as they quickly adapted in the early days of the pandemic, the security team continues to adapt as team members transition back to working in-person at facilities.
It truly takes all of us doing our part to protect ourselves, our families, communities, and businesses. By working together, we can prioritize safety and help minimize disruptions.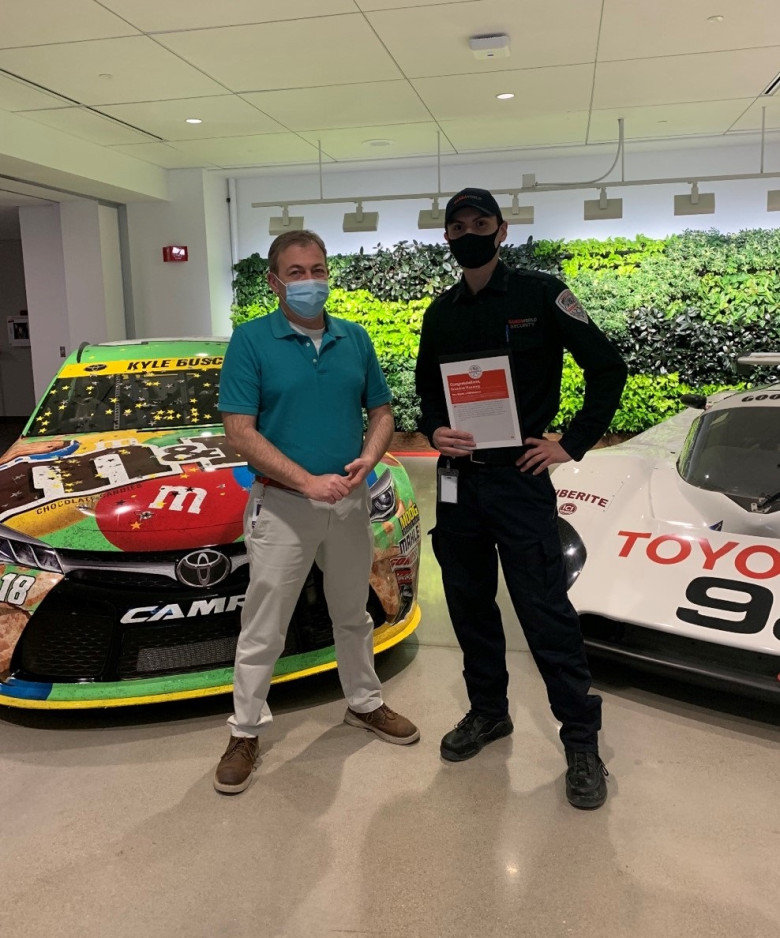 Brandon Henning, Security Captain (right), who received an Officer Making a Difference Award for his efforts when a battery overheated, and the team had to quickly remove the battery from inside the building (vehicle not shown).
*Vehicle specially modified for racing with non-Genuine Toyota parts may void the vehicle's warranty, may negatively impact vehicle performance and safety, and may not be street legal.