Project 826 & NCFL help Dallas students become published authors
When people think of basic needs, food, shelter and clothing are probably the first ones that come to mind. After that, education, transportation and healthcare take top priority. Unfortunately, writing and literacy aren't always top of mind. However, research shows evidence of improved academic success for students who have a good grasp of reading comprehension before the third grade.
While science, engineering and mathematics (STEM) skills are in the education spotlight these days, literacy is the key to excelling in these subjects. And beyond school, knowing how to communicate and express oneself is critical to being successful in any field.
This is why Toyota is collaborating with several nonprofits, including 826 Dallas Project and the National Center for Families Learning (NCFL) to expand the writing and literacy programs available to students in West Dallas. These programs are all part of varied services tied to Toyota's community engagement and education efforts in West Dallas to address issues that impact learning and help build community and foster academic success.
Helping students develop their voice
Creative expression is the goal of the 826 Dallas Project, a chapter-in-development of 826 National, the largest youth writing network in the country. It is the brainchild of international best-selling author Dave Eggers and award-winning educator Nínive Calegari. The project first began as a tutoring and writing center in a storefront at 826 Valencia in San Francisco (hence the name). As the concept gained in popularity, chapters began opening around the country and eventually developed into a global movement to teach students how to express themselves through writing.
The Dallas chapter was launched in early 2018 by a coalition of community organizations and educational institutions working in partnership with 826 National. It's funded by the University of North Texas at Dallas Foundation and collaborates with a number of youth-serving organizations including Paul Quinn College, Big Thought, For Oak Cliff, The Writers' Garret, Deep Vellum Publishing and SMU MADI.
In 2021, when Toyota learned of the work 826 Dallas Project was doing in North Texas, it reached out about expanding several of 826's successful initiatives into West Dallas. Among these were 826 Digital, a free online resource created by teachers for teachers that offers engaging approaches to teaching writing; the Personal Statement Workshop, which offers college essay writing support; and the highly engaging Young Authors Book Project (YABP), which allows students to become published authors.
All of these programs are currently available to students at West Dallas STEM School (WDSS), L.G. Pinkston High School and Jesus Morolés Expressive Arts Vanguard.
For students working on the Young Authors Book Project, they are able to delve deep into the writing process with the support of their teachers and 826 Dallas Project staff. As cool as it is to be a published author, though, more importantly, it gives the students a voice.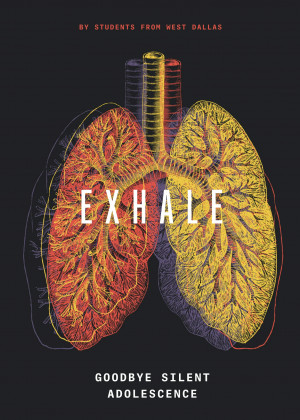 This book, 'Exhale: Goodbye Silent Adolescence,' was published on December 3, 2022. The title and cover of the book were directed by a Student Editorial Board made up of student authors who were part of the project. The second book also features a variety of content, from short stories to poetry and personal narratives, but they all speak to related themes and messages.
The comprehensive services connected with the West Dallas STEM School and in the broader community not only help address basic needs. They also help remove barriers to learning and improve student success — which is the core tenet of Toyota's community engagement and educational efforts in West Dallas and across the country.