On Nonproduction Days, Toyota Texas Builds Wheelchair Ramps for Community Members
Members of Toyota Motor Manufacturing, Texas's (TMMTX) ToyotAbility BPG seized the opportunity to partner with the Texas Ramp Project.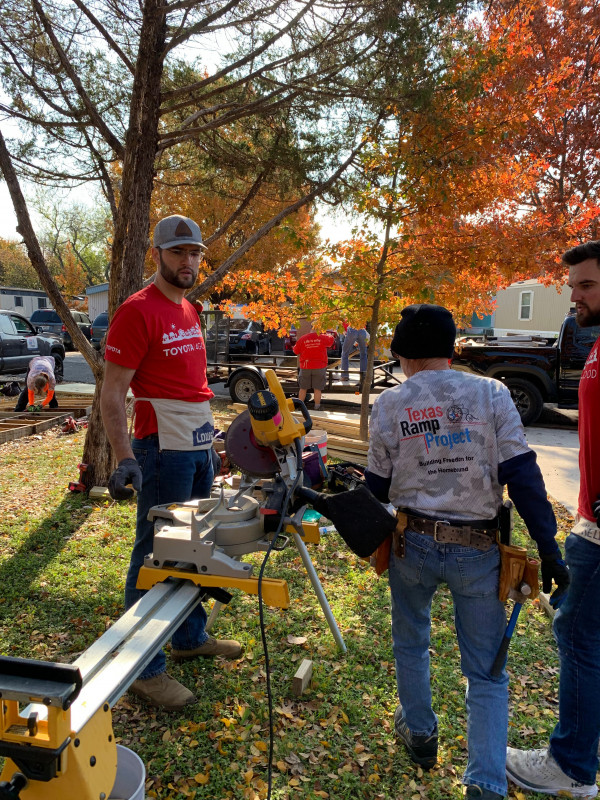 "The organization builds wheelchair ramps for older adults, veterans and others with mobility issues who can't afford to construct their own," says Mike Castro, ToyotAbility co-chair and TMMTX assembly manager.

Local businesses donated supplies and the Texas Ramp Project team rolled in with blueprints. Before long, a volunteer crew clad in red "Toyota4Good" shirts spread out across town as ToyotAbility hosted build events geared at giving the freedom of mobility back to the community.

The collaboration went so well that ToyotAbility plans to work on one ramp build a month going forward. And in true Toyota form, the build team already has Kaizen in mind. From the labeling of drills and screws to centralizing a scrap lumber pile, the list of improvement opportunities is limitless for this team.
"We're happy we could be a part of making a difference," says Leticia Garza, ToyotAbility chair and TMMTX conveyance senior manager. "To be wearing Toyota on our shirts, representing our plant and ToyotAbility, and knowing we were making a positive impact, there's no better feeling than that."