Fueled by Empathy, a desire to help
Cycling past wide sandy beaches; climbing roadways through dense, colorful forests filled with eucalyptus trees; or cruising over gently rolling hills of Central Texas – these are the experiences of many cyclists. But there's one distinguishing factor about the few cyclists who do these rides for another reason: a charitable organization.
Whether it's the AIDS/LifeCycle bike ride along the coast of California, the Texas MS 150 bike ride from Houston or Austin, or the SBPerimeter ride taking cyclist Jim Feeney all the way around the perimeter of the United States, these cyclists are committed to much more than exercise with scenic views. These cyclists are fueled by empathy and a desire to help.
7-day, 545-mile charity bike ride raises funds, awareness in fight against HIV & AIDS
AIDS/LifeCycle is a 7-day, 545-mile charity bike ride from San Francisco to Los Angeles, produced by and raising funds for the services of the Los Angeles LGBT Center and the San Francisco AIDS Foundation. Participants represent broad diversity: ages range from 18 to 81, include both the LGBTQ+ community and allies, as well as participants who are HIV-negative or may be living with HIV.

For avid cyclist Cassie Pham, Senior Planning Analyst for Toyota Logistics Services, her first AIDS/LifeCycle in 2019 showed her what allyship meant and how to approach it. Prior to the ride, Pham didn't have any close relationships with members of the LGBTQ+ community.

"The seven days on the road were very eye-opening for me," Pham said. "I heard first-hand stories of coming out that I wouldn't have heard otherwise, and I had conversations I'd never had before."
Pham recalls one fellow rider who told her that he came out even though he was married with children, explaining that he just couldn't take being inauthentic anymore. "That conversation really showed a lot to me. Sometimes people take a long time to come out, so when they do, it's a big relief. They don't have to hide from the truth anymore," Pham said.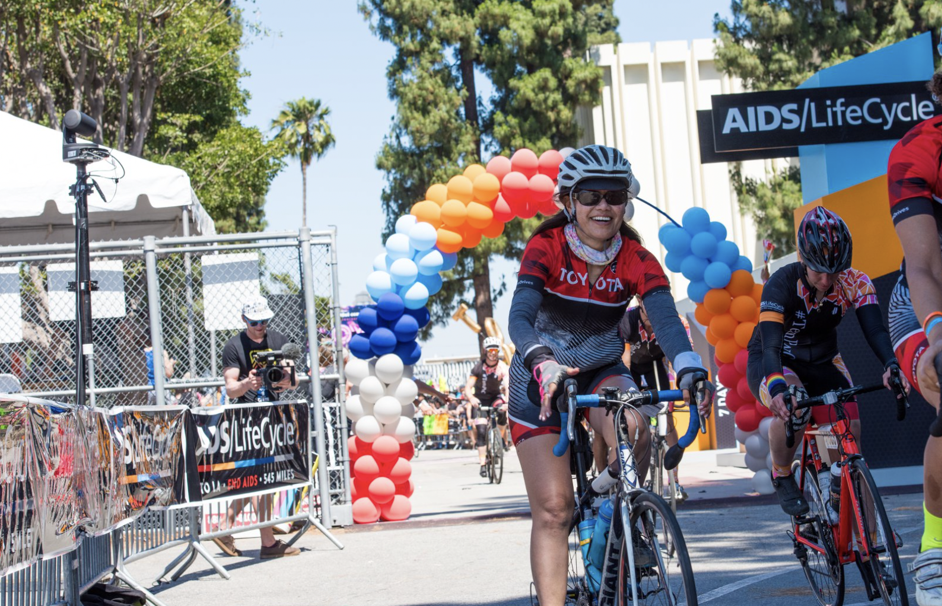 Cassie Pham crosses the finish line in Los Angeles for AIDS/LifeCycle 2019 cycling with the Toyota team.
For Wendy Walker, Compliance Consultant, Monitoring and Testing Compliance Program, the ride is deeply personal. In 2005, Walker lost her brother Danny to AIDS after a late diagnosis that left the family scrambling for information—and answers.
"Our family always thought at the back of our minds that maybe my brother was gay, but he always had girlfriends and then got married. After his divorce, he came out as gay," Walker said.
Danny's death rocked Walker's family, and Wendy found that she needed support to make it through uncharted territory. First up were counselors at the House of Ruth, an AIDS resource Center in Louisville, where Walker was born and raised and where her family is still based.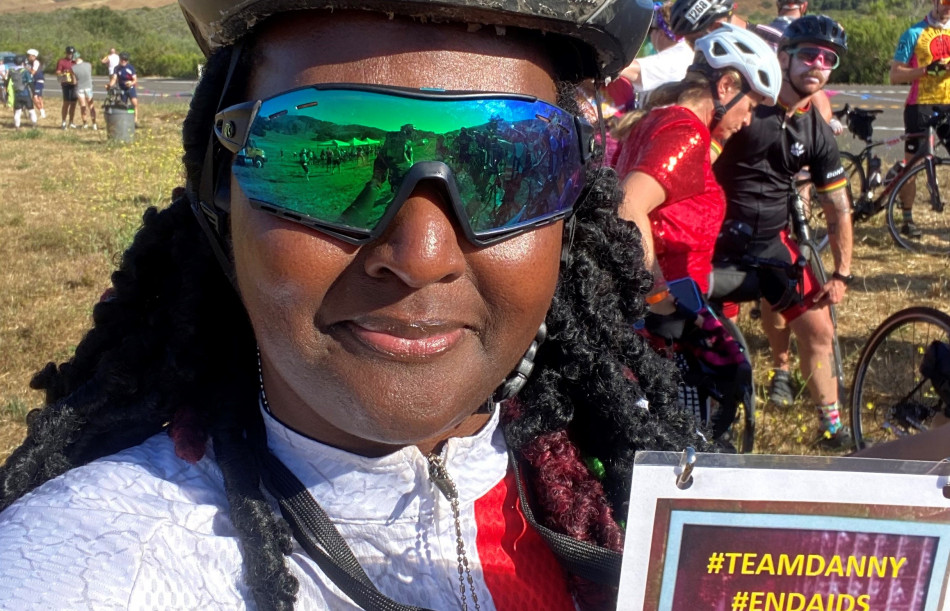 Toyota team member Wendy Walker rides in AIDS/LifeCycle in memory of her brother Danny.
And then, came cycling. Though Walker is actually more of a runner, she says, "Once I got involved with AIDS/LifeCycle, I said, 'This is it. This is what I want to do.' I wanted to give back," Walker said.
Walker learned, though, that Allyship is not just a line that goes in one direction when she discovered she had an Ally in Toyota, as well. Walker sees the arrival of AIDS/LifeCycle as a gift that her company made it possible for her to join this supportive community. As Walker says when asked about the meaning of Allyship, "I always tell my friends what an amazing company I work for. It's really helpful when your company embraces who you are."
ALLYSHIP HAS A DOMINO EFFECT: INSPIRING A RIDE IN TEXAS HILL COUNTRY
Tim Velasquez, Warranty Expense Control Manager, TMNA, was cycling at an event alongside "someone in a Toyota jersey" at another fundraising bike ride event in 2018. That "someone" was Ryan Hines, who had started Toyota's first-ever AIDS/LifeCycle team. The two worked together to form a team for yet another charity bike ride.
Soon, Velasquez was cycling from Austin to College Station for the Texas Multiple Sclerosis 150. That's 150, as in miles, ridden over two days into the Texas Hill Country. As one of 40+ MS charity bike rides taking place across the country throughout the year, the Texas MS 150 is one of the largest, with starting points in both Austin and Houston, before the two routes come together in LaGrange and then finish at the legendary Texas A&M University in College Station. With over 5,000 participants in 2023 and nearly $7.9M raised – these cyclists and volunteers come together to reach the goal of a world free of MS.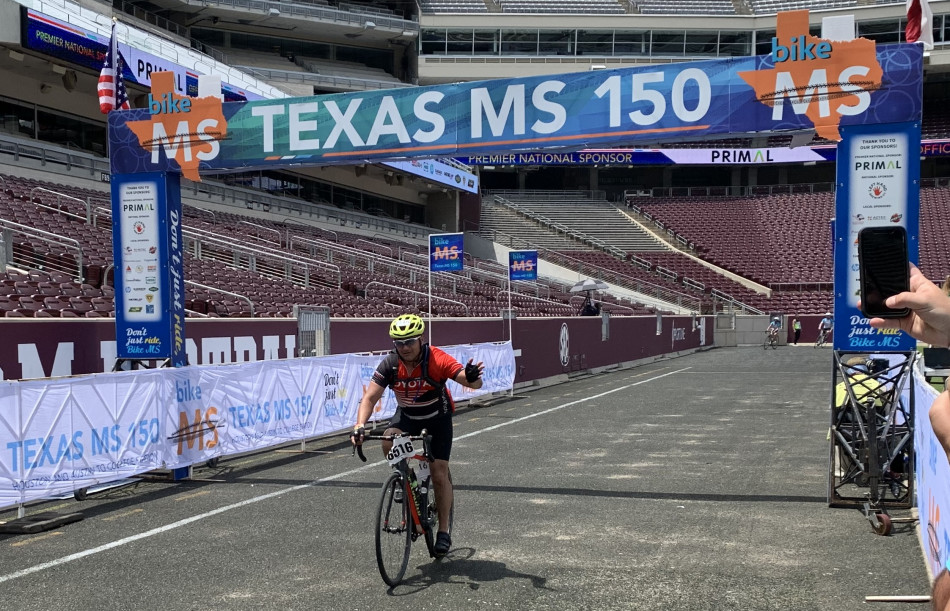 Toyota team member Tim Velasquez crosses the finish line at Texas A&M in College Station, where the Texas MS 150 bike ride ended its 2-day, 150-mile route.
"I had no connection to MS, but through the bike ride, I began to learn," Velasquez explained. Before long, he also learned that colleagues with whom he'd worked for some time were living with MS.
The more he rode, the more he found that he was doing good not just for his own benefit, but for people to whom he was strongly connected. "I realized that what I did helped, and that's what kept me doing it," Velasquez said.
REimagining a Charity Ride: Jim Feeney is Committed to RAising $300,000 for SBP
Longtime SBP volunteer, Jim Feeney wanted to do more to generate awareness of the natural disaster recovery work done by the organization. He first started working with SBP in 2011 during the Houston work to rebuild after Hurricane Katrina. Since then, Feeney has traveled to different SBP sites to volunteer as continued support is needed.
Originally called the St. Bernard Project, SBP has grown from a three-person volunteer team to a national organization — recognized as leaders in disaster resilience and recovery. Toyota has invested more than $10 million to help SBP be there for families affected by natural disasters across the nation.
Taking to his bike, Jim Feeney aims to raise $300,000 for SBP through a cycling journey started in New Orleans, as he works his way clockwise around the perimeter of the United States. Set to complete the ride in September 2023, Feeney partners with SBP for email campaigns, live fundraisers, raffles, swag giveaways and corporate sponsorships to raise funds. Follow his journey around the U.S. on his site: Blog - SBPerimeter Ride.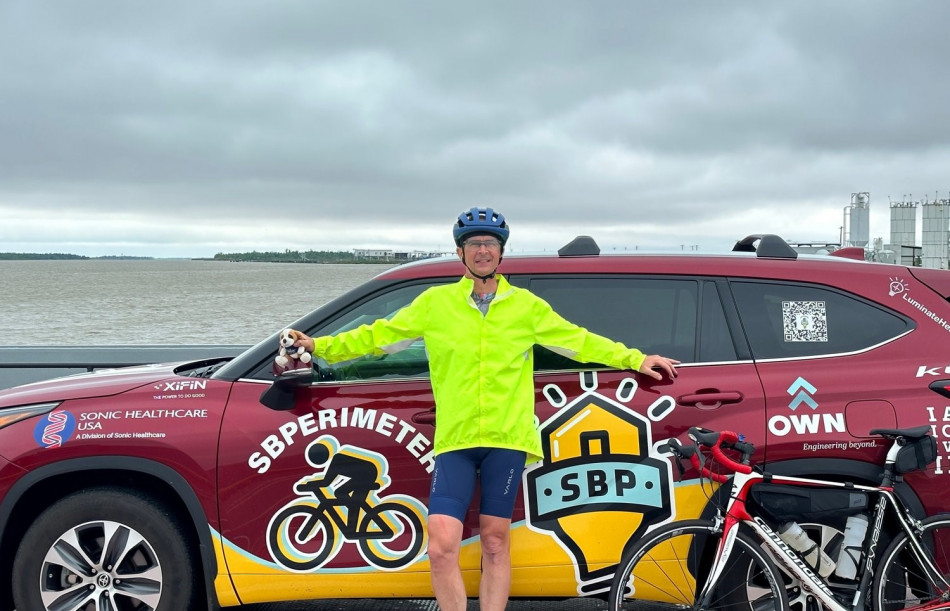 Jim Fenney starts his journey of biking the perimeter of the U.S. in New Orleans.
FEET ON THE PEDALS: A COLLECTIVE FORCE FOR POSITIVE CHANGE
Whether it's the 1,000+ cyclists biking together or the few that meet up with Feeney along his route, there's a collective spirit of allyship, determination, and perseverance that touches every community these cyclists pass through.
Cyclists speak to the way their allyship on the road breaks down barriers, fosters respect for individual experiences and offers access to new ideas and views.
Most of all, they feel the power of togetherness and the spirit of meaningful positive change. That change can be local and global, one action at a time.
As Walker puts it, "Having people reach out to me has made me think, 'Okay, Wendy, when it's your turn to reach your arms out to others, do it, because that is going to change a life. Whatever these small interactions are, I know that when I'm needed to stand up as an ally, it's the right thing to do."
Stand up. Or, put your feet on the pedals and cycle for a cause. For more info about Toyota's Cycling for a Cause group, email cycling@toyota.com.