TLMODA
Celebrating 20 Years of Driving Excellence for Minority Dealers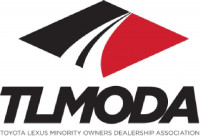 Since 2001, the minority dealers of Lexus and Toyota have had a powerful champion in TLMODA (the Toyota Lexis Minority Owners Dealership Association). TLMODA helps bring the D+I commitments of both brands to life by providing dealer members with strategic support and resources to optimize competitive advantages and drive personal and team success.
To celebrate the association's 20th anniversary, TLMODA created a series of heritage campaigns honoring the many contributions minorities have made to the industry. It also set an ambitious goal of adding 20 new members. "Growth is top of mind for us, and we've had tremendous success this year," says Robert D. Hatchett,
Jr., Executive Director.
TLMODA gives members:
+ A voice at corporate
+ Opportunities to connect with leadership
+ Business development programming
+ Community engagement
+ Knowledge, insight, and networking
+ Public policy partnership
TLMODA Quick Facts
44% of Toyota and Lexis minority dealers are TLMODA members
100% of TLMODA members sponsor local events in their communities
$97,000 in scholarships have been awarded to minority students through TLMODA's Don Esmond Endowment and the Ed Fitzpatrick Scholarship and Assistance Program
Inspired by TLMODA's vision, Toyota made a pledge to add 4-6 minority dealerships each year —a promise we've fulfilled for nearly two decades. On TLMODA's advice, we raised the stakes in 2020 by increasing our goal to 5-7 new minority dealerships per year.
Many TLMODA dealers support other minority-owned businesses and suppliers


TLMODA's Diverse and Inclusive Membership