By becoming allies, we live out Toyota's core values of Respect for People and Act for Others.
Recognizing and celebrating allies across the company is one of the many ways Toyota is striving to build a more inclusive workplace.

Driving I.D.E.A.s
Each month, Toyota distributes Driving IDEAs (Inclusion, Diversity, Education, and Allyship), an internal e-newsletter that provides team members with ongoing D+I education and resources, plus information on upcoming trainings and programs they can participate in.

D+I Toolkit
Toyota's D+I Toolkit is a continuously updated online resource center where team members can continue their D+I learning.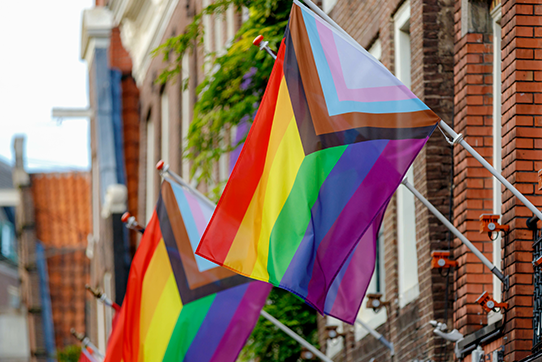 Toyota Motor Manufacturing Canada became the first Toyota facility to raise the Progress Pride Flag.
The flag highlights the growing inclusion within the LGBT+ community by adding new stripes to represent communities of color, transgender people, and those living with HIV or AIDS.
We caught up with a few team members to learn how they have been shaped and impacted by their experiences as allies.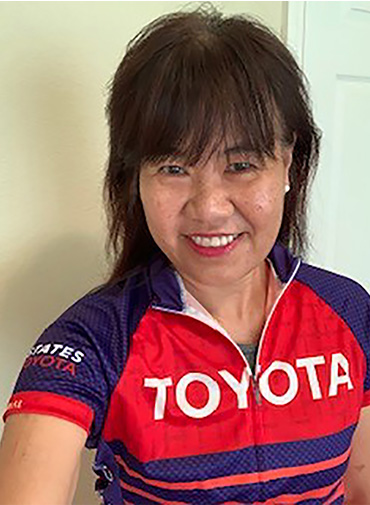 Toyota Cyclists for a Cause member Cassie Pham learned important lessons about allyship while riding in AIDS/LifeCycle:
a 7-day, 545-mile bike ride from San Francisco to Los Angeles.
"The seven days on the road were very eye-opening for me. I heard firsthand stories of coming out that I wouldn't have heard otherwise, and I had conversations I'd never had before. When you're willing to listen, you learn that everyone has a different story to tell you. You have to listen with your heart and see how you can help."
CASSIE PHAM
Senior Planning Analyst for Toyota Logistics Services
"Two years ago I had a moment where I realized that I wasn't fulfilling my duty—either as a people leader at Toyota or as a parent of my son, who is Black—to stand up and create the space for others without privilege to have their voice heard. That led me to volunteer to take on the role of D+I Champion at TMMC. While what I do is far from perfect, this is the happiest I have ever been at Toyota. I finally feel like my outward actions are matching my inward intentions."

PHIL SADLER
Group Manager – Quality Control Engineering/Supplier Preparation & Development, Toyota Motor Manufacturing Canada, and D+I Champion
"I'm an ally. I didn't actually serve. My grandpa was in the Navy during World War II, and I've just always loved to support the military community because they do what I cannot. I recognize the sacrifices that the people make, and their families make, and I just try to find a way to help fill the gaps on the backside."

RUTH JESSEN
Senior Legal Analyst and Toyota Veterans Association member, Toyota Motor North America